Are you new to homeschooling or are you looking for ways to breathe life back into your homeschool after experiencing homeschool burn out? Then you have come to the right place!
I want you to recapture the excitement you felt when you first knew you should start homeschooling. How? By coming up with a homeschool mission statement/vision!
Here is a great resource that walks you through capturing your homeschooling vision and then helps you plan how to implement that vision: The Rhythms & Routines Homeschool Planning System & eCourse!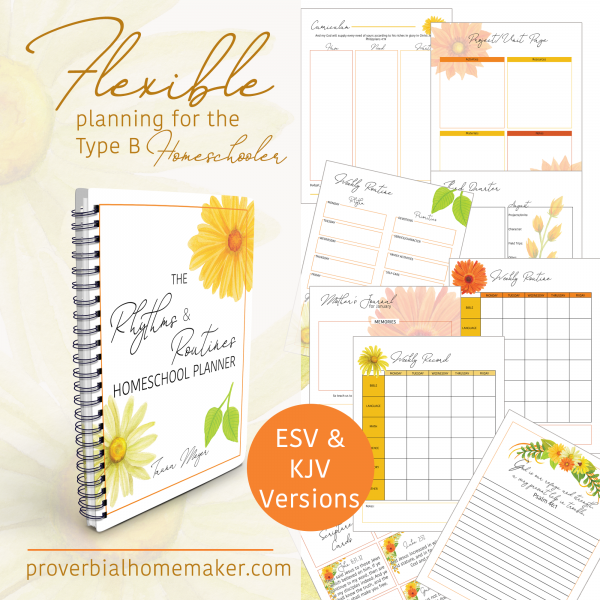 Now, read on to learn our mission statement and why I feel called to homeschool!
Our Homeschool Mission Statement & Prayer:
"Striving to be labourers together with God, planting seeds of faith in our children while we home educate. May God give the increase so that even the least of all seeds will grow to be great trees for our Lord and bring forth fruit in his season." Inspired by scripture (1 Corinthians 3, Matthew 13, Psalm 1) – Mustard Seed Academy – Established 2005.
Why I feel called to homeschool:
I believe that as parents we are called to teach our children and to do so, we must be with our children the majority of their lives…
Deuteronomy 4:9 & 10 "Only take heed to thyself, and keep thy soul diligently, lest thou forget the things which thine eyes have seen, and lest they depart from thy heart all the days of thy life: but teach them thy sons, and thy sons' sons; Specially the day that thou stoodest before the Lord thy God in Horeb, when the Lord said unto me, Gather me the people together, and I will make them hear my words, that they may learn to fear me all the days that they shall live upon the earth, and that they may teach their children."
I believe that God intends for us to teach our children, not just for the 30 minutes we spend with them in a morning rush to get them out the door to school or the few hours we are awake with them in the evening eating supper, giving baths, and ushering them off to bed… but also to teach them after breakfast, before lunch, in the afternoon and all in between…
---
Bible-Based Homeschooling Resources
A Pocket Sized Coloring Book for Christian Students – for Bible Based Homeschooling) 

Pocket Journal ~ Do-It-Yourself Homeschooling ~ 60 Day Plan:Ages 10+ (Bible-Based)

Bible-Based Word Games, Intermediate

(1777 & 1843 EDITION for the first reading primer designed for the American Colonies based on the King James Bible

Women's Raising Arrows Psalm 

Mens Fist Full of Arrows Tshirt for Large Families Raising Arrows 

---
Deuteronomy 11:19 "And ye shall teach them your children, speaking of them when thou sittest in thine house, and when thou walkest by the way, when thou liest down, and when thou risest up."
I believe that keeping our children at home gives us the opportunity to not miss any moment we are granted to teach our children about the God who created them and loves them, to give our children instruction at the moment they need it, to teach them by example as we live everyday life…
Proverbs 1:7-9 "The fear of the Lord is the beginning of knowledge: but fools despise wisdom and instruction.  My son, hear the instruction of thy father, and forsake not the law of thy mother: For they shall be an ornament of grace unto thy head, and chains about thy neck."
I believe that God gives us all of the qualifications and tools we need to educate our children…
Proverbs 22:6 "Train up a child in the way he should go: and when he is old, he will not depart from it."
Ephesians 6:4 "And, ye fathers, provoke not your children to wrath: but bring them up in the nurture and admonition of the Lord."
I believe that God should be put first and foremost in all we do, including parenting our children…
Philippians 4:9 & 9 "Finally, brethren, whatsoever things are true, whatsoever things are honest, whatsoever things are just, whatsoever things are pure, whatsoever things are lovely, whatsoever things are of good report; if there be any virtue, and if there be any praise, think on these things.
Those things, which ye have both learned, and received, and heard, and seen in me, do: and the God of peace shall be with you."
Matthew 22:36-38 "Master, which is the great commandment in the law? Jesus said unto him, Thou shalt love the Lord thy God with all thy heart, and with all thy soul, and with all thy mind. This is the first and great commandment."
(emphasis mine)
EDUCA'TION, n. [L. educatio.]
The bringing up, as of a child, instruction; formation of manners. Education comprehends all that series of instruction and discipline which is intended to enlighten the understanding, correct the temper, and form the manners and habits of youth, and fit them for usefulness in their future stations. To give children a good education in manners, arts and science, is important; to give them a religious education is indispensable; and an immense responsibility rests on parents and guardians who neglect these duties.
KNOWL'EDGE, n. nol'lej.
1. A clear and certain perception of that which exists, or of truth and fact; the perception of the connection and agreement, or disagreement and repugnancy of our ideas.
We can have no knowledge of that which does not exist. God has a perfect knowledge of all his works. Human knowledge is very limited, and is mostly gained by observation and experience.
2. Learning; illumination of mind.
Ignorance is the curse of God, knowledge the wing wherewith we fly to heaven.
(Noah Webster, American Dictionary of the English Language, 1828)
You Might Also Like…
All About Teaching Language Arts For Homeschool Moms eBook!