By God's grace… I am saved, a loyal wife, a caring mother, a responsible homeschool teacher… by God's grace. A grace word study is what my heart & soul needed – I hope you find GRACE here.
Grace – Biblical Word Study
Definition
GRACE, n. [L. gratia, which is formed on the Celtic; Eng. agree,
congruous, and ready. The primary sense of gratus, is free, ready, quick,
willing, prompt, from advancing.]
1. Favor; good will; kindness; disposition to oblige another; as a grant
made as an act of grace.
Or each, or all, may win a lady's grace.
2. Appropriately, the free unmerited love and favor of God, the spring and
source of all the benefits men receive from him.
And if by grace, then it is no more of works. Rom.11.
3. Favorable influence of God; divine influence or the influence of the
spirit, in renewing the heart and restraining from sin.
My grace is sufficient for thee. 2 Cor.12.
4. The application of Christ's righteousness to the sinner.
Where sin abounded, grace did much more abound. Rom.5.
5. A state of reconciliation to God. Rom.5.2.
6. Virtuous or religious affection or disposition, as a liberal disposition,
faith, meekness, humility, patience, &c. proceeding from divine influence.
7. Spiritual instruction, improvement and edification. Eph.4.29.
8. Apostleship, or the qualifications of an apostle. Eph. 3.8.
9. Eternal life; final salvation. 1 Pet.1.13.
10. Favor; mercy; pardon
[American Dictionary of the English Language, Noah Webster, 1828]
---
Grace Word Study Resources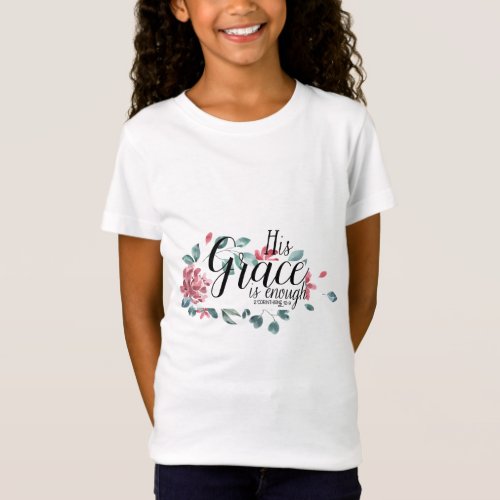 His Grace is Enough T-Shirt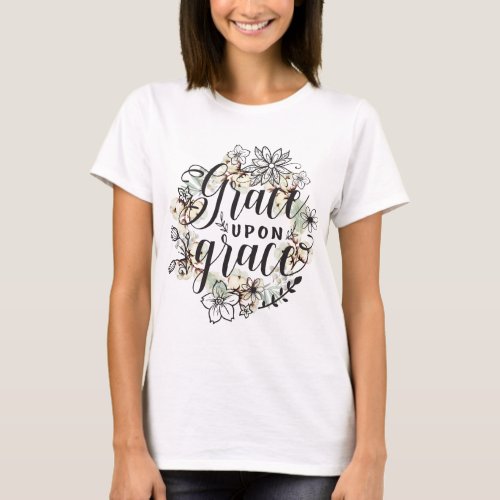 Grace upon Grace T-Shirt

Grace upon Grace John 1:16 Notebook
Amazing Grace CD
Amazing Grace DVD
Freedom DVD
---
Scriptures To Study & Thoughts To Ponder
Psalm 84:11 "For the Lord God is a sun and shield: the Lord will give grace and glory: no good thing will he withhold from them that walk uprightly."
John 1:17 "For the law was given by Moses, but grace and truth came by Jesus Christ."
Acts 15:11 "But we believe that through the grace of the Lord Jesus Christ we shall be saved, even as they."
Acts 20:24 "But none of these things move me, neither count I my life dear unto myself, so that I might finish my course with joy, and the ministry, which I have received of the Lord Jesus, to testify the gospel of the grace of God."
Romans 3:23-24 "For all have sinned, and come short of the glory of God; Being justified freely by his grace through the redemption that is in Christ Jesus…"
Romans 6:14 "For sin shall not have dominion over you: for ye are not under the law, but under grace."
Romans 11:5-6 "Even so then at this present time also there is a remnant according to the election of grace. And if by grace, then is it no more of works: otherwise grace is no more grace. But if it be of works, then it is no more grace: otherwise work is no more work."
Romans 12:3 "For I say, through the grace given unto me, to every man that is among you, not to think of himself more highly than he ought to think; but to think soberly, according as God hath dealt to every man the measure of faith."
1 Corinthians 15:10 "But by the grace of God I am what I am: and his grace which was bestowed upon me was not in vain; but I laboured more abundantly than they all: yet not I, but the grace of God which was with me."
Ephesians 2:8 "For by grace are ye saved through faith; and that not of yourselves: it is the gift of God…"
2 Peter 3:18 "But grow in grace, and in the knowledge of our Lord and Saviour Jesus Christ. To him be glory both now and for ever. Amen."
Revelation 22:21 "The grace of our Lord Jesus Christ be with you all. Amen."
No thoughts of my own to add – the above words are sufficient!