We love books here. I would have my walls lined with bookshelves and full of quality nonfiction and fiction books if I could.
Josiah has been reading since age 4 and now reads at a 5th grade or higher level at age 8. He will often read a chapter book, or two, every night before bed.
I find it hard to provide him with Christian books without any questionable content, so I was immediately drawn to Salem Ridge Press and the books they were offering for review.
Salem Ridge Press is a publishing company that takes beautifully written and illustrated books from the past and republishes them with minor editing to ensure Christian character is upheld and wholesome books are available for today's readers. We received For Merrie England: A Tale of the Weavers of Norfolk by Emma Leslie for ages 8 to adult.
Daniel Mills is the founder of Salem Ridge Press and a homeschool graduate. I was very impressed with the "Our Standards" statement found on their website, which states:
"I feel very responsible for the content of books that we republish and if I am going to bring a book back into print, I want to be able to stand behind it with no reservations. Very early on we realized that we were going to have to decide carefully what was appropriate in our books and what was not. I sometimes joke that our number one rule is, "No Kissing!" While many books from the 1800's and early 1900's are no problem at all this way, in several cases we have slightly edited passages which included a brief kiss or embrace. We want to be an encouragement to young people to maintain the highest standards of purity in their relationships. We have also edited out some derogatory comments that we felt were unnecessary or offensive. On several occasions the illustrations have presented a challenge and so we edited them to keep things modest and appropriate. Most of the changes that we make are very minor but I think they go a long way towards upholding our standard which is found in the Bible: "Finally, brethren, whatsoever things are true, whatsoever things are honest, whatsoever things are just, whatsoever things are pure, whatsoever things are lovely, whatsoever things are of good report; if there be any virtue, and if there be any praise, think on these things (Philippians 4:8).'"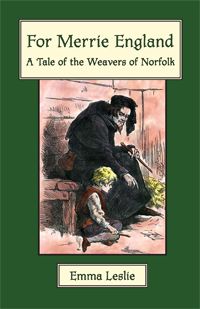 For Merrie England was first published in 1890 and is one of 5 books written by Emma Leslie in her Junior Church History Series, meant for children aged 8 to adult. (Emma Leslie authored over 100 books total)
This 133-page, 6-chapter book has large print and a scattering of black & white pictures throughout. Having been written in the 1800's, there are some words not commonly used today, therefore the publisher has included the definitions of unusual words at the bottom of each page that they are found.
At the front of the book, is included Historical Notes with a brief explanation of the time period and notable historical figures mentioned in the book. There is also a map of where the story takes place, circa 1357 A.D.
Taking place in 1357 during the "Hundred Years' War", this story brings us into the world and lifestyle of Kings, Earls, Knights, Merchants, and Farmers. The Woodhouse family are humble sheep farmers/wool merchants and are just barely making ends meet. Father, Mother, son Roger (16), and son Tom (13) make up the little family.
Roger is tall and strong, but poor little Tom was born weak and crippled. Their Father is proud of Roger and expects great things from him, but Tom is left alone and considered a burden — a punishment from God, and of no use to the family. Though his Mother secretly loves him dearly.
Father wants Roger to learn to weave as an apprentice – a new trade being introduced to England at that time so that he can make their family rich. But, before that can happen, Roger runs away to fight in the war against France.
When The Weaver comes to get Roger, he finds lame Tom instead. Tom is very intelligent and interested in learning, which The Weaver notices right away. So, when Father explains that Roger has gone missing, The Weaver offers to take Tom in his place. Father is surprised but agrees.
Tom, being crippled in his legs, has spent his life crawling around and occupying himself. He feels worthless and had often begged to be allowed to live with the monks at the monastery.
When The Weaver takes him back to his home to teach him weaving, he is introduced to an entirely different lifestyle. The Weaver is a believer in Jesus Christ and tells Tom about God's love for him and how Tom has a purpose in Him.
The Weaver and his widowed sister, teach Tom weaving and also encourage him to strengthen his legs. In this atmosphere, Tom thrives and grows strong. He learns that He can go directly to God, through Jesus Christ, rather than praying to the saints as he had been taught. He is a hard worker and learns to weave very well after years of living with The Weaver.
Meanwhile, Tom's brother realizes that a soldier's life isn't as glorified as he thought. After being injured and nursed back to health by the enemy, he repents and desires to live a life for Jesus Christ, thus changing his mind about running away.
When the battle ends, he returns home to ask forgiveness from his father, only to find his mother had died and his father blames him. Saddened by his father, Roger, chooses to learn to become a weaver and goes to live with Tom and The Weaver. Roger eventually takes in apprentices of his own and shares the gospel with all, taking over when The Weaver dies years later.
This story touched me in many ways. Having a "crippled, lame" child myself, I understand some of the anger and confusion of Tom's father… but ultimately, I can relate to The Weaver and his determination that Tom had a purpose in this life, despite his disability.
I love that The Weaver expresses his faith in Jesus Christ simply, sharing the good news with Tom and others. I love how The Weaver and his sister, acknowledge that they need Tom in their lives', and that he is a blessing to them and not the other way around (though Tom needed them as well).
It is a story of faith, true love, redemption, and forgiveness in Jesus Christ. I appreciated the honesty of the cruelness in this world, but without any offensive content.
I enjoyed the journey back into time and learning about the reasons behind the start of the "Hundred Years' War". I read this aloud to Josiah from start to finish in about 1 hour, it was too good to put down!
It held Josiah's attention the entire time. He loves learning about Medieval times and really enjoyed this book. It truly is a wholesome book, worth adding to our library. I look forward to exploring more titles from Salem Ridge Press!