I was blessed to get to try out some more of Koru Naturals products and review them for you all! This time I got Skin Clear Cream, Manuka Honey Propolis Soap, and Emu Oil Shampoo with Emu Oil Leave-In Conditioner! That is a lot of goodies!
Koru Naturals is a company that uses natural ingredients from New Zealand to bring amazing personal and beauty care products to us in the U.S. They choose to source their ingredients from NZ, because of the high quality products found there. In addition to their Emu Oil products, they also bring to life other exotic substances like manuka honey, lanolin, tea tree, manuka oil, rosehip oil and Rotorua mud. They have a unique assortment of products and it is such fun to browse their online store!
What I like the best from this review package is the Manuka Honey Propolis Soap bar. It has a subtle scent and suds up good in the shower. I use it as a body soap, on my face, and even as a shaving cream for my legs. It is gentle but cleans nicely. It does not leave a slimy feeling on the skin like most liquid body soaps do. I am not usually a fan of bar soap, but I really like this one! I have used it daily in the shower.
My least favorite product from this review package is the Skin Clear Cream. I have REALLY sensitive skin and this cream didn't bother me at all. I used it on my hands as needed. The reason it is my least favorite is simply the scent. It has a citrus scent that resembles a wood polish cleaner. It is not too strong and does fade quickly, but still bothered me a little. The ingredient list is all natural despite the slight chemical smell (you can see it on the website). I put it on my face once, but I struggle with getting too greasy, so it was not great for my face. However, it dissolved nicely into my hands and has been great for keeping them soft. The Pure Emu Oil from Koru Naturals is still my favorite hand moisturizer!
Now what about the Emu Oil Shampoo and Emu Oil Leave-In Conditioner? They are both great! I love the mild scent of the shampoo, it has a fresh meadow-like scent and I really like it. Almost an orange-vanilla scent, but very mild. It is not as thick as most shampoo and doesn't get as sudsy (typical of most natural shampoo), but it does the job. It definitely leaves my hair feeling squeaky clean. It pairs very well with the spray-in conditioner. The conditioner has a similar fresh scent. The first time I used it, I put too much in my hair and my hair was sleeky wet all day. The directions say to spray on liberally, but I think you just have to find what works best for your hair. I found that a few spritz on the ends of my hair worked best, since that is the area that dries out the most. Once I figured out what worked best for my hair type, I have really liked using it! I just spray on while still wet and then comb through and style as usual.
It has been so nice to use these products from Koru Naturals, I feel like I'm getting speciality treatment every time I take a shower!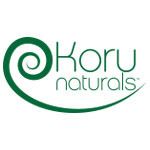 Find Them On Social Media

Facebook: https://www.facebook.com/korunaturals

Pinterest: https://www.pinterest.com/korunaturals/