Awhile ago, we were blessed with a beautiful piano from my in-laws. We both come from a musical family, but neither myself or my husband seem to have inherited the talent (at least not naturally). Still, we both desire for our children to have a chance at developing their musical talents and have wished we could afford piano lessons.
You can use the software through a monthly subscription or buy the program outright (choose between buying just 1 year or a bundle) and receive a CD-ROM or download. The monthly subscription is $10.95/month (that is a great price for the whole family to get piano lessons!) and all software for the entire seven-year curriculum is included. The lesson plans are available separately for $29.95 per level.
A MIDI keyboard is needed to use the program and you can purchase one through Adventus. With the subscription or with the purchase of a level, you can use it with multiple children/people at once, you just create an "account" for each person!

I decided to focus on Josiah (8) for the review period (though I do plan to have Hadassah, age 4, start using it soon). We already had a MIDI compatible keyboard and just needed to purchase the adapter (about $5 through Amazon). Our keyboard is quite large, though, so I can see how the keyboard offered through Adventus would be much more handy.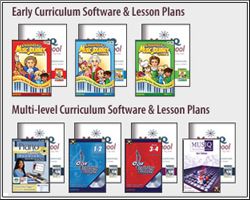 After downloading the software, we jumped right into Children's Music Journey Volume 1! Though we received the Lesson Plans (PDF file download), I didn't look at them until we had already completed two lessons. I think the program can easily be used without the Lesson Plans, but to really immerse the student in the music it'd be best to use the Lesson Plans as a guide. The program is very child-friendly, bright and colorful. The characters are likable and the lessons are taught by Beethoven, Bach, Joplin, Mendelssohn & Villa-Lobos. Practice sessions take place with Miss Melody. There are 10 games to play that help reinforce the lessons. The student can also compose & improvise with dozens of instruments, beats & arrangements.
In the practice room with Miss Melody
It is expected that you do at least one lesson per week, broken into a few sessions of lesson, practice, and games throughout the week. The Lesson Plans include activity sheets that the child can do as well. It starts out very simple and introduces high and low notes, then middle C, rhythm, and so on. It is an excellent program for someone with no prior experience with music/piano.
Josiah working on the activity sheets
Josiah is usually able to do 2 lessons per week. He usually starts a new lesson on Tuesdays and Thursdays. I am just "playing it by ear" (haha) and going through the lessons as quickly (or slowly) as he seems to need. He really enjoys it and would spend hours doing the practice and games if I let him! I print out the activity sheets that I feel he would enjoy and that I think would be helpful for him when learning a new concept. There is not much input needed from me, though the Lesson Plans do suggest more involvement for the parent teacher. If I am understanding it correctly, there are 3 modes you can allow your child(ren) to use with the program, customizable for each child by the Teacher. There is free mode, normal mode, and strict mode. Free mode allows the student to explore the entire program and choose random lessons to do. Normal mode allows the student to advance to each lesson as they are completed; the next lesson is not available until the current lesson & practice are completed and the student "unlocks" games as each lesson is completed. The Strict mode means the Teacher can lock it so that the student only has access to certain lessons/practice, so that the student can master the level before moving on (if they are struggling). We have been using the Normal mode only and have been enjoying it and learning from it! If you are unable to get out of the house regularly for piano lessons or if you just want a more affordable way to teach your child(ren) music, then this is a program you should look into!