I had never used a lapbook with my kids before, so I was a little nervous about doing a review for
A Journey Through Learning
. When I was looking at their website and checking out the
Knights and Castles Lapbook
, Josiah came over and got super excited… begging me to let him do it! So, I put aside my own fears and decided to give them a try.
We were given 4 lapbooks to download and Josiah chose
Knights and Castles
for grades 2-7 (three folders) to try first. I also looked over the
Letters, Numbers and Shapes Early Learning (ages 3-5) Lapbook
and plan to use it with Hadassah (4) this year. For the review period -and because lapbooks are new to us, we focused on Josiah using Knights and Castles. Both lapbooks are listed for $13 as an instant download and are also available in a CD or pre-printed format.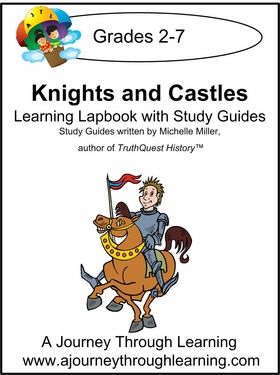 After printing the 51-page file, I was relieved to see that the instructions for each activity/project were very straightforward and simple. You can find How To Videos on their website, which show how to assemble the folders (plain file folders in any color) to be used as lapbooks (I found these very helpful). They also have sample pages for each lapbook. The Knights and Castles Lapbook includes Study Guides which are 1-2 pages of text to read each day that you work on the lapbook. It starts with The Fall of Rome Paves the Way to the Middle Ages, which explains just what the "Middle Ages" are, then goes on to tell us how to become a knight, about the knight's weapons and armor, the castles, and how people lived during the Middle Ages.
Josiah working on the lapbook.
After reading the Study Guide text, next comes an activity/project to glue into your lapbook. Each activity/project page comes with instructions and shows where exactly to place the mini-booklet or picture in the folder/lapbook. As an example, one mini-booklet consisted of 5 small pages about How to Become a Knight which Josiah cut out, stacked on top of each other, stapled together, wrote the info on each page (he wrote a few words describing what a Page, Squire and Knight were -based off what we read in the Study Guide, and then drew a picture of a knight on the last page), and then glued it into the folder/lapbook… easy! Knights and Castles had 20 projects to complete. They were each simple and required some coloring, drawing and writing along with the cutting, stapling and gluing. It was a very hands-on experience (which is what lapbooking is meant to be). You can stick with just reading the Study Guide and doing the projects (which is what we did) or you can dig deeper using the additional enrichment pages, which include a reading list and pages for book reports, keeping notes and narration.
Josiah really loved the Study Guide and learning about the Middle Ages, knights and castles. He enjoyed the hands-on activities for the most part, but I learned that he would much rather just read and read about a topic than actually cut & paste or draw & write about the topic! He is an audio and visual learner. Hadassah, on the other hand, will most likely LOVE the hands-on aspect that lapbooks offer, and so I am excited to use the Early Learning Lapbooks from A Journey Through Learning with her.
I enjoyed using this lapbook as a learning & teaching tool, much more than I anticipated! I am not a very hands-on or crafty type of person myself, but I found that putting together a lapbook displaying all that we were learning about Knights and Castles was very satisfying. I can definitely see how lapbooks can add a lot of fun to schooling while covering a variety of subjects (history, writing, language, science, etc.). I really appreciate that A Journey Through Learning offers a lot of lapbooks that are Christian based (like Knights and Castles), as well as lapbooks that you can use along with well-known programs such as Apologia science, VeggieTales, TruthQuest History, Geography Matters and more! If you already love lapbooking or you are new to it, check out A Journey Through Learning and their easy & informative lapbooks. You can try their Express Lapbooks (one folder) for just $1 or their Lapbook of the Month for just $5! They also offer Unit Studies!
Josiah with his finished lapbook