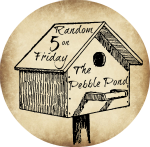 Joining Miranda at
The Pebble Pond
for a Random 5 on Friday! It's been awhile...
1. Another complete week of schooling done! Always feels good. We focus on math (numbers, addition, subtraction, time, measurements, and now multiplication for Josiah) and language arts (phonics, grammar, writing, reading, etc.). We always "start our day" with Bible Time, which usually includes reading from the Bible, discussing and answering any questions the kids have, and sometimes reading an article from Answers in Genesis or something from For Instruction in Righteousness. Other times, we only get a few Bible verses read and that is all. It is a "go as we are lead" (or can manage between baby's needs) sort of time. I love the routine of starting our day with God's Word... I am otherwise not great at spending time reading the Bible, sadly.
2. Our day actually starts a few hours before we have our Bible Time. Usually with Jubal or Abigail(or Cyrene or Olympas) waking me up with their crying... or Abigail puking. It's always "fun" waking up to your daughter choking on her own vomit! I love the idea of waking up before all of my kids and relaxing with a cup of coffee and the Bible or spending time writing, but that is not going to happen anytime soon, I can tell you that! I need all the sleep I can get at this point! Jubal usually wakes up between 4 and 6 for a feeding, Abigail is awake by 6 everyday, and the other kiddos wake between 6 and 8... so I usually wake up around 4 and sometimes doze off for awhile before actually getting up. Not to mention the fact that the kids usually wake up a few other times in the night. Feeding Jubal, consoling Abigail, and changing all 4 kids' leaky diapers are first priority. Then I unhook Abigail from her overnight feeding and give her 3 medicines. Get all 3 girls' hair combed and kids' dressed (Josiah, Hadassah, and Marcus dress themselves). Then I put Abigail in her "chair" and finally focus on breakfast!
3. Thankfully, my two "oldest" (Josiah - 9... & Hadassah - 5 who has become the oldest girl by result of Abigail's condition) are capable of getting breakfast. I always make hard boiled eggs every evening, so they get those out of the fridge, cut them in half and place on paper towels for all of the kids eating (5 total). Then they either get bananas for everyone or make bowls of oatmeal in the microwave, depending on the day. Those are our weekday breakfasts for the kids. This is actually happening while I am finishing all of Abigail's morning stuff and getting her settled. Wow, am I thankful for the help of my big kids! I am usually able to make myself a protein shake while the kids are getting done eating. Then I sit down with my drink in hand and we start Bible Time.
4. Last week, we spent the 4th of July at the Children's Hospital ER with Abi. We have a knack for spending most major holidays at the hospital since Abigail was born. lol. Fun stuff! Anyway, Abigail had been running a temp of 103 Wednesday and Thursday before the 4th. On Thursday we brought her to her pediatrician's office and got her on an antibiotic to cover any lurking infection, we didn't want her getting worse over the holiday weekend. Friday morning she had a very suspicious looking stool that had a lot of bright red in it. We were nervous and figured better safe than sorry, so headed to the ER around 10am. We were concerned that she had another GI bleed. We brought her dirty diaper with (things you learn to do with a terminally ill child!) for them to test whether it was actually blood. Turned out the nurse at the ER that was caring for Abi was one of the nurses present when Abi was rushed in via ambulance with her GI bleed and she remembered Abi. She was very concerned right away. She took Abigail's blood pressure and it was a low 80 over 28! That got us all scared! She went out and called in the ER doctor. They tested the stool and said that it was not blood... big sigh of relief. Then the doctor said she wasn't happy with that, so tested again... this time she said it WAS blood. Uh oh! They started trying to place an IV and get blood for labs, not easy to do with Abi. It took several pokes and 3 nurses to finally get it. The ER doctor sent the stool to the lab to be tested yet again. Meanwhile, Abigail's blood pressure came back up within normal-for-her range, so that was good. Her hemoglobin and blood counts came back looking good, the lab determined that it was NOT blood in her stool, and we were told the antibiotic she was on can cause bright red stools! So, it was a wasted trip, although it was probably not a bad thing that Abigail got some IV fluids since she was kinda sick. We were "released" around 4pm.
5. We got our other kiddos from my sister's house, went home, ate hot dogs and drank Zevia (stevia sweetened soda pop)... listened to and watched our many neighbors putting off fireworks. Things hadn't gone exactly as planned, but we still had a nice Independence Day! Saturday we left all of our kids (including Jubal... eekk!) and spent several hours going to Costco and Walmart and eating at an actual "sit down" together. And on Sunday, I made a coconut flour vanilla cake (I found the recipe on Pinterest and made it THM-S style) and we ate it for supper with strawberries and whipped coconut cream (all dairy free for Josiah). And we had bought the kids some "pop its" to have fun with. It was a blessed holiday weekend after all!