Every year in my adult life has brought big changes, much more so than when I was a child it seems. 2012 was no exception. Here is my end-of-the-year recap...
January
brought with it hope and anticipation as we headed to Seattle on the 6th to start Abigail on a brand-new, experimental study drug for mito. Every week after that, for 14 weeks, we made the 8-hour (total) drive for her to be monitored and get safety blood draws. (She has continued on the study drug and we make routine visits to Seattle every 3 months now) I was almost 8 months pregnant when we started the study.
February
brought renewed hope, as we welcomed our 6th blessing into the world on February 10th, the day after her brother's 1 year anniversary in Heaven. It was a "joy from ashes" kind of moment. I felt like I had been holding my breath for a year and finally was given permission to breathe again. She was born at home. Then on the 21st, our oldest turned 7-years-old.
March & April
were spent trying to get back into the swing of things with a new baby. I was having some major health issues, but didn't know what to make of it... part of me thought
this must be how it feels to have given birth 6 times, so stop being a baby!
It was hard to ignore the gut-feeling that something was wrong, though. I had my step mom check me out (she is a PA) and she recommended I go to the doctor.
May
I finally went to the doctor on the 6th... and so started the multiple tests and procedures to get diagnosed. After a scare with lung cancer, I was diagnosed with Sarcoidosis. I opted for a natural route for treatment (since there is no FDA approved treatment for Sarcoid, anyway)... I changed my eating habits (quite drastically, I might add), started on a variety of supplements, and received lots of help from my friends and family. Joey's grandma passed away suddenly in May! Thankfully, she went Home peacefully. It was during this time that our landlord agreed to pay for a fence if we did the labor. Joey & I put in the posts and then family came over 1 Saturday and put the fence up. It was an answer to prayer!
June, July, & August
were spent enjoying the warm weather, doing school books with Josiah and preparing for Abigail's Wish from Make-A-Wish! Once the details were worked out, we had a RV roadtrip planned for the end of September! In June, Joey started working for a new company, doing a new sort of job. He had spent 15 years in concrete foundations, 2 years as a concrete pump truck driver & operator, and now he drives a concrete readymix truck and loves it! His new employers are great! The only down-side is that he has to drive 50 minutes, twice a day, to get to the shop. Because of this, we may be looking to move closer to his work next spring or summer! (Lots of praying over that!) By the end of August, Josiah had completed 1st grade and I was feeling quite a bit better as well. Cyrene was sitting up on her own, pulling into a standing position, and threatening to walk by this time, too!
September
brought with it the news that blessing #7 was on the way and due May 10th, 2013. September 7th was the 5-year anniversary of my mom's death. On the 15th, we headed out on our RV roadtrip! On the 16th, Joey & I both turned another year older. We enjoyed our trip very much, despite the pregnancy sickness I was fighting the whole time! We arrived back home on the 20th. On the 28th, Joey & I celebrated 10 years of marriage!
October & November
were pregnancy sickness days. I spent most of my days on the couch, but thankfully I wasn't as sick as I usually am. In October, after living 7 years as though Josiah were severely allergic to dairy (according to us. His doctor always called it an "intolerance" despite us telling her how severe his reactions were) and 2 years as though Marcus were sensitive to peanuts, we finally got them officially tested. The results? Josiah showed the very highest possible allergy to dairy and Marcus tested at the low-end of being allergic to peanuts. Needless to say, their doctor prescribed them epi-pens immediately! So, we continue on with our dairy & peanut-free lifestyle, but now with the support of my kids' pediatrician. Cyrene was 9-months-old in November and taking several steps at a time. We had Thanksgiving dinner with my family on Thanksgiving Day, then went to Tri-Cities for one night to have Thanksgiving with Joey's family the weekend after. Marcus turned 3-years-old on the 26th. In November, I was accepted as part of the Schoolhouse Review Crew, so I was somewhat busy with that... and the busy-ness (and fun) will only continue through the next year! I'm really excited about doing reviews with them... you can expect to see the first official reviews post in February! (I did two reviews already, as trial-runs... but they are every bit as "real" as the official ones coming up!)
December
3rd, Hadassah turned 4 and then Abigail turned 6 on the 17th! And, I can finally say that I am completely over the sick part of this pregnancy! On the 10th, we had my 18 week ultrasound and found out baby is a boy! So exciting! We celebrated Christmas with Joey's family Christmas Eve, had our own dinner on Christmas Day, and then a dinner with my family on December 29th. Cyrene has been walking full-time over the last few weeks. We ordered some school books in anticipation of starting a new school year in January (next week... eekk!).
So, as you can see, lots of changes took place over the last year. Some great, some not-so-good. But, through it all, God has been there for us... and there have been blessings from the hard times as well as the wonderful times! I've learned, and often need to remind myself, of the truth of these scriptures...
"Therefore I say unto you, Take no thought for your life, what ye shall eat, or what ye shall drink; nor yet for your body, what ye shall put on. Is not the life more than meat, and the body than raiment?
Behold the fowls of the air: for they sow not, neither do they reap, nor gather into barns; yet your heavenly Father feedeth them. Are ye not much better than they?
Which of you by taking thought can add one cubit unto his stature?
And why take ye thought for raiment? Consider the lilies of the field, how they grow; they toil not, neither do they spin:
And yet I say unto you, That even Solomon in all his glory was not arrayed like one of these.
Wherefore, if God so clothe the grass of the field, which to day is, and to morrow is cast into the oven, shall he not much more clothe you, O ye of little faith?
Therefore take no thought, saying, What shall we eat? or, What shall we drink? or, Wherewithal shall we be clothed?
(For after all these things do the Gentiles seek:) for your heavenly Father knoweth that ye have need of all these things.
But seek ye first the kingdom of God, and his righteousness; and all these things shall be added unto you.
Take therefore no thought for the morrow: for the morrow shall take thought for the things of itself. Sufficient unto the day is the evil thereof." Matthew 6:25-34
"Be careful for nothing; but in every thing by prayer and supplication with thanksgiving let your requests be made known unto God.
And the peace of God, which passeth all understanding, shall keep your hearts and minds through Christ Jesus.
Finally, brethren, whatsoever things are true, whatsoever things are honest, whatsoever things are just, whatsoever things are pure, whatsoever things are lovely, whatsoever things are of good report; if there be any virtue, and if there be any praise, think on these things.
Those things, which ye have both learned, and received, and heard, and seen in me, do: and the God of peace shall be with you." Philippians 4:6-9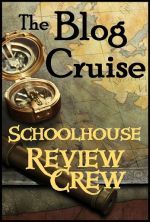 I am joining the Schoolhouse Review Crew this week for a Blog Cruise, so go check out the other posts looking back on 2012!