My kids are super excited that we are getting a chance to review the
SchoolhouseTeachers.com
complete online curriculum site again. This website is an extension of
The Old Schoolhouse
, so of course you know you will get a lot of high quality learning tools! You can choose between monthly access at $12.95/month or
save by signing up for their yearly membership at $139/year, which is what we received!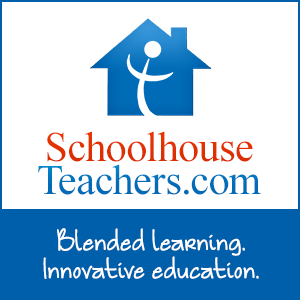 SchoolhouseTeachers.com
is a Christian homeschool curriculum site for the entire family. One membership covers every age/grade, as well as providing helpful resources for Teacher Mom/Dad! This internet-based curriculum has downloadable and printable activities and worksheets, as well as online classes. Classes are recorded, so that you can watch as needed. New content is added monthly. It is designed to take the pressure off of the homeschool teacher while providing a wholesome education for the children.
What you Get:
Membership gives you complete access to everything available on
SchoolhouseTeachers.com.
This includes access to over 100 online classes which are available 24/7 and can be taken at the student's own pace. Hundreds of activities and worksheets for preschool through high school are simply a click away, making it easy for mom to browse through, create lesson plans, and prepare each day/week/month as needed. Available content includes all of the foundational subjects, as well as electives such as music, art, foreign language, homesteading, whole food cooking, and family fitness! Use this resourceful website membership to create your entire curriculum for the year or to supplement what you already use.
What We Use:
The American Sign Language Course caught my attention right away! We have been immersing ourselves in ASL over the last year or so. This course will be perfect for taking it up another notch and start teaching/learning it more seriously. The graphic below gives an outline of the ASL course.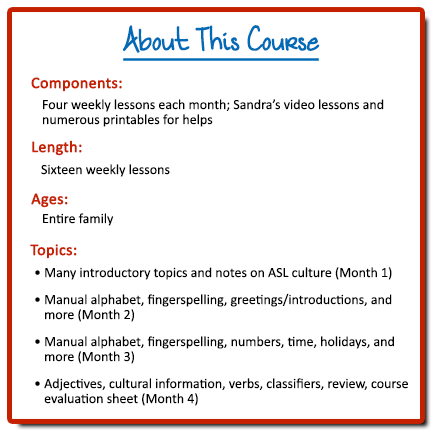 Pros/Cons:
The online courses with video classes are right up my alley! I like being able to choose a course and put the video playing for myself & the kids to watch without much prep on my part!
I am not fond of printables and rarely use them. I prefer having hard copies ready-made for us and am usually willing to pay the extra cost if it is something we love. Because of that, I don't really utilize the hundreds of printable options on the website. The
SchoolhouseTeachers.com
printables are perfect for the frugal mama that loves picking & choosing only what they'll use, and then printing from the comfort of their own home, which saves on buying tetxbooks you may or may not ever use!
SchoolhouseTeachers.com
provides learning and teaching tools for every type of student/teacher, from visual to hands-on, making it easy to adjust to each child's needs.
Considering the fact that one membership provides full curriculum choices for every grade, it is an amazing price!
Special:
The price gets even better! Now through Christmas, you can save 40% off the monthly rate or
50% off the yearly membership and only pay $64.26/year!
Homeschool families who join at this rate will keep it forever as long as they maintain a continuous membership. What an amazing deal!
Join Today
! (valid only during sale dates)