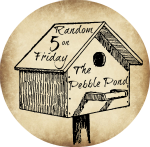 1. I am having my Lilla Rose Grand Opening Party happening as we speak!
Check it out
!
2. Joey and I both had birthday this week, on the 16th. We share a birthday. I turned 29 and he turned 35.
3. We did a lighter school week this week... we have just been doing review mostly. Just needed to take a break, so we did!
4. We actually ventured out last weekend! Joey took the 4 "big kids" to the lake on Saturday for a few hours to swim and then we all went again on Sunday for a few hours again! It was too hot for Abigail, so she was retching almost constantly. :( She did better than we expected, though. The other kids had a blast! It was in the 90's both days, but cooler in the shade where we had Abi. There was a ton of people there, though, so it was a little stressful keeping track of all of the kids. I wish we had a nice lake to swim in that had less people.
5. I am looking forward to cooler weather. It has been so hot!