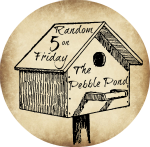 1.

Lilla Rose

Special! Today Only!

As an Independent Lilla Rose Consultant, I am offering all of my new AND existing customers a special deal TODAY only!

Buy any 3 items before 11:59PM Pacific Time tonight, and I will send you a Flexi Clip of

my choosing!
**And, if you are a NEW Lilla Rose customer, you will also get to choose an Additional item for free (up to $16 value!) after you place an order for 3 or more items and create an account through my website!**
Simply place your order for 3 or more items before 11:59PM Pacific Time Tonight and then email me your name & address, so I can send out your free Flexi Clip. If you are a brand new customer, please include your customer ID # and the item # of your additional free item (up to $16 value). Within the US only please. Allow 2-3 weeks for shipping. Email me at clarissarwest@msn.com
Happy Shopping!
http://lillarose.biz/purelyelegant

2.
Today is Halloween? I seriously keep forgetting. But, I got on Facebook this morning and saw that Answers In Genisis had posted an article about Halloween History and the Bible. It was interesting, so I figured I'd share it. Read it HERE.
(Do you follow Counting Our Blessings on Facebook? If not, Please do!)

3.
Today I mixed up a batch of Homemade Laundry Detergent for sensitive skin and a batch of Natural Powdered Dishwasher Detergent. If you haven't tried making your own detergents yet, you should. It is not hard, they work, and are natural!

4.
We have completed "week 29" of The Phonics Road to Spelling and Reading Level 2 this week. We have just 4 weeks left of our school year! Yay!

5.
Anyone interested in a giveaway? I have a Kindergarten pack of curriculum I want to do a giveaway for, but I'm not sure now is a great time of year to do it. Anyone else school year-round, or starting their new year soon, or just want to get ready for next year?? If I get enough interest, I will consider doing a giveaway soon!