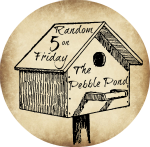 1. I ate
Trim Healthy Mama
style all week! I usually eat pretty healthy for breakfast, lunch, and even supper anyway (during the week... on the weekends, not so much), but the evening snacking is where I end up eating junk. This week, no junk snacking at all! I did eat crossovers a few times, but otherwise just S & E. It feels good! I had a bad headache and crazy junk cravings Monday, Tuesday, and even a little Wednesday... but by Thursday and today I am feeling a lot better! I have about 10-pounds to lose, too... so hoping that I can.
2. I had forgotten how much fun
and how satisfying
it is to indulge in good healthy fats! Avocado, cheese, etc... yum! I am planning to bake a chocolate cake today using coconut flour and some coconut yogurt. Coconut flour can be quite dry in bakery, but eggs and yogurt help that and then it has the cake texture I love (unlike almond flour, which doesn't seem to turn out for me in bakery). Anyway,
Pinterest
has so many recipes to choose from... but I have a few favorites now.
3. Abigail had 3 nights in a row last Saturday, Sunday, and Monday where she didn't sleep more than a couple of hours... then she was up retching and vomiting ALL night. And Jubal also had a few days of fussiness and not sleeping well. I think they both had a touch of a cold virus or something. Anyway, thankfully they both seem improved, though not 100%. Abigail is still vomiting more than her normal, and starts the day with a big vomit at 6am! This time of year is when the sickies come to visit, so not surprising. It is usually one virus after another and even worse if we go around a lot of people, since Abigail and Josiah seem to catch every little virus they get exposed to. (But, so thankful none of the viruses have turned into something more serious the last few years and we can avoid the hospital for Abi) Josiah has to struggle and fight asthma all cold/flu season (which makes sense, now that we know he is "missing" that part of his immune system!). Last year, we had to miss the big Thanksgiving dinner with my family because of Abi and the other kids being too sick. We have learned to accept this, because our kids' health has to come first! We still manage to have our own special celebrations here at home with our family of 9!
4. Next week, I plan to bake a dairy/peanut-free pumpkin pie and dairy/peanut-free pumpkin muffins for Thanksgiving. Another reason big family dinners are not easy: food allergies! Ugh! So much (delicious) food among all of the children and most of it is filled with dairy (and sometimes peanuts, but not as often)... I feel like I don't have a moment to relax and I probably get labeled the "mean/crazy aunt" since I am constantly reminding my nieces/nephews to wash their hands, not to bring food out of the kitchen, and to keep their food separate from my boys'. *sigh* I really feel bad, but it is a matter of life & death for my kids! I wish we did not have food allergies, but we do... and it is part of our life! (I get anxiety every Holiday season thinking about family gatherings)
5. We are supposed to be getting both Abigail's and Jubal's glasses this weekend... and we are so excited! We can't wait to see how it will improve their interaction when having their vision corrected! Praying it is a big improvement.