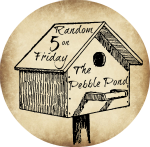 1. Last weekend I used
clay
as a face mask. I haven't really done anything to care for my face for many years, besides washing it. A few weeks ago, I switched from commercial-chemical filled face wash to using just plain water in the shower and
100% witch hazel extract
with
essential oils
as a toner when needed. I had given up on replacing my face wash with something natural/homemade (after a few failed attempts) and realized I could just use water! It has been working great!
(clay face mask in action)
2. Our camera doesn't work and hasn't for a few weeks now. I have been limited to cell phone pics, which are far from great. Hoping to get a new digital camera someday.
3. We have had a stressful week. Jubal hasn't been sleeping well, Abigail has been waking in the night needing her diaper changed, Olympas had a 3-hour screaming fit one night, and my days have been starting by 5am. I end up feeling tired all day. And not motivated to do much.
4. Thankfully, I had pretty much planned out our meals for each evening this month (one word: chicken), which relieves my brain from -at least- having to think about that.
5. We have been eating chicken 5 nights out of 7. Ground beef the other 2 nights ("taco" and "pizza" night). Not sure we'll do it again next month, since we aren't huge fans of chicken. I'm still trying to determine if chicken really is cheaper than ground beef. We buy from Costco in bulk, so I know we are getting the best price (for store-bought meat). I didn't record the price per pound of meat last shopping trip like I usually do. I guess when we make our monthly trip to Costco next month, I'll have to price check in the store and decide whether to buy 40+ pounds of chicken or ground beef.
(We get strange/curious/shocked looks when we load up our flatbed cart with that much meat, a few boxes of baby wipes, 20 dozen eggs, 4 tubs of organic infant formula, and a ton of other stuff we deem necessary for our family each month. Sometimes I'm embarrassed, sometimes I'm proud. Not sure either emotion is appropriate. But, for the record, it takes a lot to feed 9 people, especially when we don't eat out.)
Disclaimer: we totally picked up fast food a few times this month! Pretty silly to buy groceries for 1 month
and then
pick up fast food instead of using your pre-stocked fridge/pantry, hey? I always feel bad (guilty?) when that happens.